Our past client engagements showcase our consultants' versatility and ability to provide sustaining solutions and to help clients in many market verticals transform their businesses.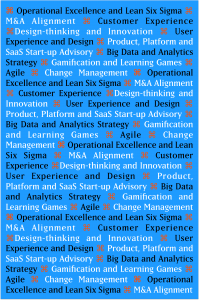 The examples below as well as the Blog and Social posts will provide you with insights as to which transformation initiatives are needed for your business. 
For latest insights follow us on Twitter
  and connect with us on LinkedIn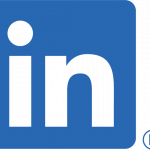 Client Engagements -- Examples
For one of the largest global agro-business companies: Deployed a business improvement framework, value-stream based cost assignments and KPIs, and provided executive-level training to address common-cause variation in sales processes and alignment to SAP ERP/CRM. This helped streamline and improve support to the company's sales organization.
Aerospace and Defense Contractor
For a multi-billion dollars defense contractor: Helped establish Leveraged Services with organizational redesign and post M&A alignment for all indirect functions. This reduced operating costs by $400 million and met the promised goals of M&A.
For a multi-billion dollar, diversified manufacturing company: As a Master Black Belt, facilitated and deployed Six Sigma in the corporate headquarters, including projects in law, corporate finance, health and safety, accounts payable and receivables, purchasing, marketing, human resources, and information technology. This reduced the client's operating costs by 35%.
For an environmental, health and safety group: Helped implement a process management framework. This helped the executive team report quality data, and mitigate issues in a systematic and transparent manner.
Developed and implemented an MS Access-based program that provided managers with a tool for measuring staff productivity and linking to incentive and performance-based compensation.
Business Process Outsourcing
For a multi-million dollar benefits-outsourcing company: Helped transform call-center operations, assessed improvement opportunities, analyzed work processes and jobs, redesigned organizational structure, and coached leaders to manage change. This led to increased productivity, reduced operating costs and improved quality.
For several Business Process Outsourcers (BPOs) and large organizations: Deployed innovative training, business process simulations, PAKRA® Games/Console/Analytics (a Human Capital Management (HCM) system), and targeted training processes.
Banking and Financial Services
For a large credit card, travel loyalty and banking corporation: Deployed a multi-player non-digital gamified-learning environment to teach leaders how to achieve breakthrough improvement and innovation. This helped high-potential leaders understand "what it means to lead change" and embrace a growth mindset.
For a large financial credit-services company: Determined operational maturity of core business processes (from customer acquisition to customer retention) and helped executive team execute data-driven, strategically aligned business-improvement projects. This helped the team to resource and deliver results more effectively.
For a national collection agency: Trained Black Belts and deployed Lean Six Sigma, and subsequently facilitated Card-Services-Act-related deployment changes. This transformed how the agency ran its business.
For a large credit-card processing company: Helped determine root causes of customer experience failures and helped implement changes that reduced personnel-turnover among call center agents. This increased customer loyalty and satisfaction KPIs.
For a multi-national financial services company: Assessed outsourcing opportunities, evaluated existing levels of service from enabling functional areas, and recommended a plan for cost reductions. This increased operating margins.
For one of the largest national card-services companies: Evaluated operational maturity of the entire IT organization, identified gaps, prioritized projects, redesigned organization, established governance, and assessed outsourcing opportunities. This completely changed how IT worked with businesses (by, e.g., including fast-forwarding projects such as Enterprise data warehousing), and help the organization replace Waterfall with Agile SDLC.
For a multi-national bank: Assisted with assessing process capabilities of large IT core processes. This provided the client with well-defined goals and a control plan to mitigate risks associated with the recommended changes.
For a financial-service and banking company: Evaluated effectiveness of training and communications planning process. This helped the training department address targeted needs efficiently, and deliver just-in-time training.
Helped deploy Lean Six Sigma throughout the organization for:

A credit-reporting company
One of the largest credit card and data-processing companies in North America
Health-care delivery systems
For several healthcare-delivery organizations: Used DMAIC methodology to facilitate cross-functional teams in redesigning processes for such services as lab delivery systems, emergency room, clinical teams, transportation delivery, operating room delivery, rehabilitation services, and radiology reporting. These engagements improved the quality of service, reduced operating expenses and costs, and increased employee morale.
Created assessment tools for measuring retention and recruitment efforts for professional specialties, especially those related to increasing workplace diversity.
Deployed Balanced-scorecard systems.
For a diversified large insurance-brokerage company: Provided complexity and opportunity assessment. This standardized processes and reduced implementation time for product launches.
Facilitated projects and coached project managers to integrate PLM systems as aligned with other legacy systems.
Conducted Quality Function Deployment exercises for new services to provide clients with a list of innovative services that were easy to implement and effective when made operational.
Helped deploy Lean Six Sigma throughout the organization for:

One of the largest HMOs serving active military personnel
For one of the largest OEM manufacturers in North America: Designed and coached deployment of a Data-as-a-Service (DaaS) platform for all sources of mobility data.
Pharmaceutical, Medical Devices and Life-Sciences
For one of the largest pharmaceutical companies: Ran Kaizen events to improve sales-productivity with targeted messaging, and deployed sales enablement tools. This resulted in phenomenal sales conversion rates and an effective management structure for district sales managers.
For a large pharmaceutical company: Facilitated value-stream mapping exercises to identify gaps in process capabilities. This allowed the executive team to respond in a timely and effective manner to changes in global regulatory mandates.
Helped deploy Lean Six Sigma throughout the organization for:

Two of the largest pharmaceutical multinationals
Two of the largest medical-device companies
For one of the largest retail fashion and clothing chains: Evaluated process and operational maturity and capacity, and base-lined current state of operations. This helped the executive team facilitate growth.
For an e-recycling company: Assessed all channels of customer touch points from branding to lead management to sales management to customer service management, and deployed social media channels process management for each channel. This helped the executive team focus resources in scaling their business.
For a large data storage company: Implemented sales-effectiveness processes and systems for the inside-sales team.
For a large IT-security multinational engaged in post M&A activities: Helped identify operational risks and sales and customer-service effectiveness. This led to reorganization, deployment of measurable controls, and increased compliance.
Transportation and Logistics
For one of the largest North-American freight, logistics and distribution companies: Assessed current state of customer experience and Cost of Poor Quality (COPQ) of all order-to-cash processes within SG&A, developed an activity-based costing model and base-lined Process Maturity for all lines of businesses, helped streamline processes, and gave the executive team prioritized projects. This helped the executive team achieve the scale that increased their operating margins, and prepared the company for an M&A event.
Having launched several companies and organizations, our managing partner provides start-up advisory services and helps start-ups scale. Her experience includes:
Co-founder of PAKRA LLC (pakragames.com), a gamification and learning and Human Capital Management (HCM) system:
Established governance with a corporate board of directors.
Brought product to global market with online listening strategy and competitor analysis.
Executed repeatable and predictable "lead generation," "lead nurturing," "sales-opportunity management," contracting, and "customer retention and renewal" processes using Sales 2.0 methodology.
Established and deployed social B2B marketing and selling. (Harvard Business Case Study – http://hbr.org/2012/07/tweet-me-friend-me-make-me-buy/ar/1)
Deployed marketing automation and SCRM.
Led ideation and Agile-innovation teams that delivered Serious Games and human-capital management (HCM) platforms and big data analytics. These were delivered on-budget and on-time, and were user-driven.
Deployed product maturity map, data and network architecture, UX framework and strategy, and agile product development culture for HCM, Game Development and Webstore (ecommerce) and marketing.
Assessed and deployed Model-view architecture (MVC) and Agile framework.
Helped a team learn new skills in Hadoop and R (NoSQL) to build a big-data app.
Built a user-experience-driven work culture with diverse, geographically-dispersed team members. Created a fail-fast learning organization.
For several Business Process Outsourcers (BPOs) and for large organizations, deployed innovative training business process simulations, PAKRA games, PAKRA Console and Analytics, and targeted training processes.
As founder of DemsWin, Inc., a big-data voter engagement consulting company:

Provided big-data advisory services to several campaigns.
Led Agile Teams.
Provided campaign and digital marketing services to political campaigns.
Blog posts, Media, Publications
@RDMCHelps Twitter Feed
[custom-twitter-feeds]